Candidate Interviews
The Cambridge Chamber of Commerce undertook to interview candidates for the upcoming Municipal Election on October 22nd. Municipal government makes decisions that affect our daily lives. Did you know that only 30% of eligible voters turn out to vote for these key rolls? Our objective is to increase that number.
While we heard loud and clear the concerns around our line of questioning, the main issue is that the video interviews we conducted are simply too long. Most are in excess of 40 minutes each!  
We want to help you get to know the candidates. We've now made the interviews shorter so that they make the impact we set out to make with this effort in the first place.  
Most importantly, we hope this video series will help encourage you to exercise your right to vote and make an informed decision at the polls on October 22nd. 
Thanks everyone for your patience, concerns and input, all was valued.
Small Business, Too Big To Ignore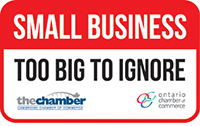 The Cambridge Chamber of Commerce in partnership with the Ontario Chamber of Commerce (OCC) and the Ontario Chamber Network is proud to be a part of the ambitious campaign, Small Business: Too Big To Ignore.
This campaign highlights the important contributions of small businesses to our economy and communities, and seeks to actively engage small businesses across the province in investigating the top barriers to small business growth - and identify solutions to overcome those challenges. To kick off this campaign the OCC has released the report, Top 3 Obstacles to Small Business Success.
The Cambridge Chamber of Commerce looks forward to leading discussions in our community about the underlying challenges that are weighing on small businesses and stifling job creation.
A strong and vibrant small business sector is important for all business. Small businesses are the wealth creators, job creators and risk takers. Small businesses have important relationships with big businesses as part of the economic ecosystem. Big businesses are often highly dependent on small businesses as suppliers, distributors, customers, innovators, and for developing a skilled and experienced workforce to draw from. Small businesses also make up the vast majority of our local membership, our volunteers, and are often the people actively involved in community service.
We want to hear from you. Please engage with us on the Small Business Too Big To Ignore campaign on Facebook and Twitter, share your input, and help spread the message about the importance of small business and why it cannot be ignored.
Chamber Perks Program
As a member of the Cambridge Chamber of Commerce, you have access to a host of Perks that come with membership. Through partnerships with Chamber members, we've established discounts to help you in your business. Whether it's driving more customers through your door or helping you lower some overhead costs, all of our programs are designed to help you succeed. View our Chamber Perks.
Our Cambridge.... A Gift to the World
 

Our Cambridge ... A Gift to the World showcases Galt, Preston and Hespeler with their rivers, incredible historic architecture and hi-tech companies. This has made for a wonderful project...a collection of images and a gift book that corporations, residents and visitors will simply love.

 

The Book is a hard cover, jacketed coffee table book, great for your home, office or as a gift to visiting customers and suppliers.  Click here to purchase your copy.