Community Programs
ChamberforGood.com
We take our role of being a community building organization very seriously and with the launch of our Chamber for Good system we will be taking things to an even higher level of community engagement.
The Chamber for Good system leverages the strength and credibility of our chamber of commerce to shine a bright light on the great charities and causes that labor away on behalf our fellow community members.   www.chamberforgood.com/Cambridge
Cambridge Chamber of Commerce Launches Chamber For Good –Help Us Make a Real Impact on Our Community!
 
WowCambridge.com
The Cambridge Chamber of Commerce Member Businesses, Will "WOW!" You With Service.
Along with our large Membership of over 1800 Members, the Cambridge Chamber of Commerce is extremely excited to introduce this program that will encourage a community wide attitude of "Customer First".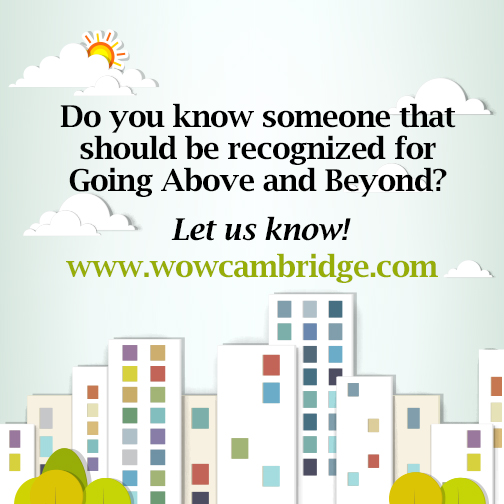 We are particularly pleased that BGM Financial Services, the Chamber Authorized Benefits program providers, are leading the way not just through their sponsorship but also in demonstrating the importance of customer service in their everyday business dealings.
BGM has just recently done a customer service audit, and remarkably found a 100% Customer Satisfaction result. What a great sponsor, to be leading the way in Cambridge and providing their customers with a WOW experience.
This program will change the way people feel about doing business in Cambridge. It will build on the values of a caring community and be another key component to fostering growth and an increase in everyone's quality of life.
The Cambridge Chamber of Commerce is proud to author and manage this program to elevate our community, and offer everyone a WOW experience in Cambridge. Check out our winners!
 
| | |
| --- | --- |
| Program Sponsor | Gift Sponsor |
|   | |
Nomination Form
Have you met someone who went out of their way to provide you with outstanding service? If so, we want to recognize that individual whose service went above and beyond what is traditionally expected. Please take a moment and tell us about your experience and the person you wish to nominate for a WOW Cambridge Award.
Winners are chosen based on quality of service, not quantity of nominations.